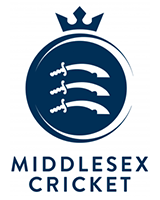 County Cricket Division 2 / Middlesex CCC
Latest news headlines, social media updates, club information, related club links directory, travel choices & local sports / business offers
Middlesex CCC
---
Middlesex CCC's latest news headlines and social media updates from the UK's only non-profit EU funded cricket directory, Gladiator Cricket. Please support our local sponsors as all the money from advertising on this page, after running costs, goes towards sponsoring local grassroots sports through our sister site Gladiator Sports.
Away Travel Info: Lords Cricket Ground, London

From the South (M25/M23): From the M23/M25 junction 7/8 continue north on A23 into London to junction with A203, cross the Bridge and take A202 to Victoria Station, bear right on to Wilton Road, follow signs to Hyde Park Corner, continue up Park Lane to Marble Arch, then take Edgware Road (A5) to St John's Wood, at junction with A5205 turn right.

From the East (M25/M11): From the M25 junction 27 continue south on M11 to junction 4, continue west on A406 to Brent Cross junction with A41, continue on A41 to Wellington Road.

From the West (M4): From the M4 at Chiswick flyover, turn left on to A406, at traffic lights turn right on to A4000, at junction with A40, turn right and continue on A40 on to A40(M), continue on to Marylebone Road, turn left on to B507, turn right on to A5205. From M40: from M40 continue on A40 then as for M4.
From the North (M1/A1): From the M1, junction 1, follow signs to A5, turn left into St John's Wood Road.