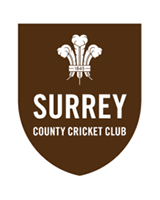 County Cricket Division 1 / Surrey CCC
Latest news headlines, social media updates, club information, related club links directory, travel choices & local sports / business offers
Surrey CCC
---
Surrey CCC's latest news headlines and social media updates from the UK's only non-profit EU funded cricket directory, Gladiator Cricket. Please support our local sponsors as all the money from advertising on this page, after running costs, goes towards sponsoring local grassroots sports through our sister site Gladiator Sports.
Club Details: Surrey County Cricket Club
Surrey County Cricket Club was founded in 1845. Their home ground is The Kia Oval which has a capacity of 23,500.
Surrey County Cricket Club
The Kia Oval
Kennington
London
SE11 5SS
Telephone:
Tickets Line:
Contacts:
0207 820 5700
0844 847 9866
Membership Office: 08712 461100 Option 2
Oval Events - Conference and Events: 08712 461100 Option 4
Oval Events - Hospitality: 08712 461100 Option 3
Stadium / Home Ground: The Kia Oval
Other information...
Club Founded:
Head Coach:
Chairman:
1845
Graham Ford
Richard Thompson